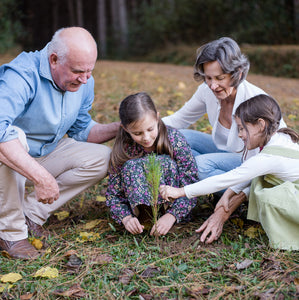 ECO FRIENDLY
Our furniture uses 100% renewable Brazilian pine wood, from our company owned reforestations. Owning our supply of wood ensures greater quality, and that no native wood or harmful pesticides were used in production.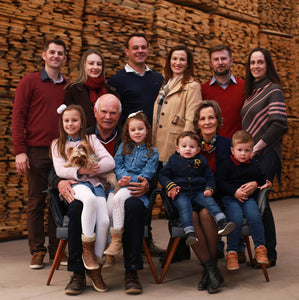 FAMILY OWNED
We are a family company, 25 years in the making, running all parts of our business: From the moment when the seedlings are planted, to harvesting and drying the wood, to shaping into the furniture you see, our family is closely involved.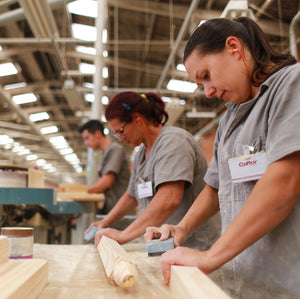 We are proud to use human hands in many of the processes of our furniture. Not only this results in a unique, quality finishing to our products, but also provides the livelihoods of 140 families in our home town of Rio Negrinho, in southern Brazil.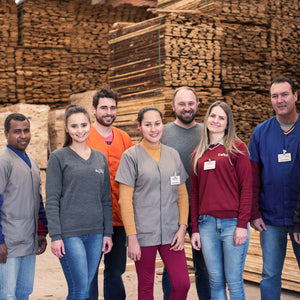 FAIR EMPLOYER
50% + of our employees are women, from the factory to the boardroom. We welcome everyone to become a part of our family. We support our local Brazilian employees' education, having helped employees attain their high school diplomas.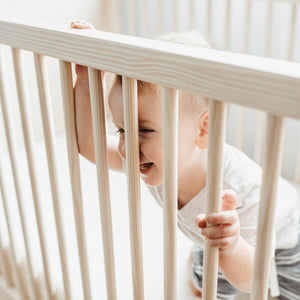 Our products are tested by third party CPSC accepted testing laboratories and meet or exceed all industry voluntarily and regulatory safety requirements.
Our furniture lasts through years of intense use, and have nursed many members of our customers' families. This means high value for a quality product and a smaller environmental impact.
Reviews
Love these pieces!! I purchased the nursery set + the side table in the Hazelnut color. I'm obsessed with the color and the furniture is awesome quality! Everything was simple to assemble and is very sturdy. I hesitated slightly before purchasing because I wasn't familiar with Simply Nursery, but I'm so glad I took a leap of faith. Our nursery is the cutest and I can't wait for our baby boy to enjoy it in just a few months!

Caitlan in TX
This dresser and the other pieces that match the set (crib and changing tray) are of super quality. Very well made, solid, heavy pieces of furniture. The hazelnut color is perfect for my grand sons mid-century vibe nursery. What impresses me most about this purchase is Simply Nursery's impecable customer service through the process. 

Amy in MO
My wife and I both love this crib!! She picked out 3 cribs that she liked and i did the deeper research. After my research we ordered the Simply Nursery Hazelnut crib. Hands down this crib exceeded my expectations. I had the crib together in 30 min and let me tell you, this thing is solid! I have put together a lot of furniture for our house and this crib is far superior to any other "assembly required" furniture. Quality solid wood and hardware make this a 5 star crib for sure.

Evan in PA
I was nervous buying online from an relatively small company, but boy I am glad I did. This furniture Set is SO gorgeous and also well-made and trustworthy. Everything went smoothly - delivery was very easy, assembly was straightforward and the pieces all fit together seamlessly (a very different experience from the old days of assembling IKEA furniture), and the furniture is solid, stable, and well-made. Did I mention how pretty it is in our dresser? I am so happy with our crib and dresser!!

Debbie in CO
Perfect for our Woodlands themed nursery. We got the Hazelnut color which looks a lot like a texas red cedar. It's beautiful! It's so refreshing to find affordable furniture that is actually wood and not particle board or MDF. Assembly was fairly was for my Husband and I to do in an evening. Seems very solid and high quality!

Meg in TX
I am very happy with the service and quality of the products I received from simply nursery. My questions were answered very quickly and the sample came quickly as well. The Noah crib we ordered is beautiful in our nursery and it's well made, was easy to assemble

Brenda in NY
Purchased this set for my daughter's baby shower....she was thrilled with it and I was pleased with the entire ordering process....everyone extremely helpful....

Adriana in NC
My husband is a detail finish carpenter, and was very pleased by the quality of these pieces! Assembly went very well, and both pieces are very sturdy and look amazing in the nursery. We couldn't be happier. Thank you!

Anne in CA
We love our crib and dresser from Simply Nursery! It arrived quickly, was easy to assemble, and looks beautiful in our nursery. The wood is beautiful and very sturdy.

Desi in KS
Modern Baby Furniture
At Simply Nursery, we provide nontoxic modern baby furniture specially made from Brazilian reforested wood to ensure the highest quality for your little one. Our eco-friendly baby furniture is carefully made with renewable resources and simplistic design to always keep you and your baby in mind. We carry many solid wood nursery furniture options ranging from cribs and chests to changing trays, side tables, and nursery sets. We even create convertible nursery furniture. With the help of our sustainable and non-toxic baby furniture, you can ensure your little one has furniture that meets the highest safety standards and regulations. See the difference in quality, safety, and reliability with our solid wood modern baby furniture collections.